Legacy Members
Bob and Karen Collins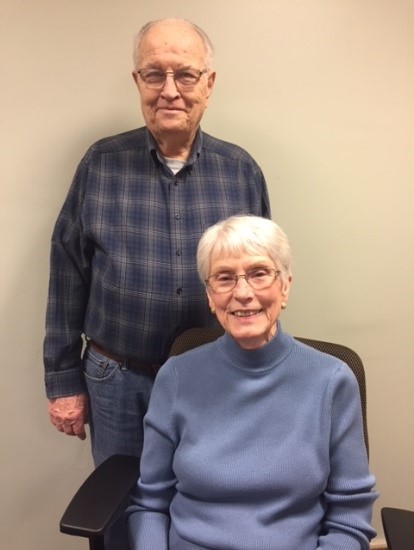 Supporting Methodist Jennie Edmundson Hospital comes naturally to Bob and Karen Collins. Deep-rooted relationships, fond memories and a profound sense of pride are all evident in conversations with Bob and Karen as they discussed their decision to include the Jennie Edmundson Foundation in their estate plan with a gift during the Cancer Center Capital Campaign.
Over the course of their lives, the Collins' family has formed strong connections with their Jennie family. "Whether or not I was actually aware of it, Jennie has always been a part of my life", Bob remarks. "My dad, Dr. Robert Collins, began his practice as an OB/GYN in Council Bluffs in 1936 and, except for four years serving as a Navy surgeon during WWII, he continued to practice in Council Bluffs until about 1973."
Bob and Karen met shortly after Christmas in 1957 when they happened to be at the hospital at the same time. Bob likes to tell people that Karen "was working nights and dropped a glass to get my attention". He admits this scenario is not exactly accurate, but it's a good story. "We just met. Several of us guys would go to the nursing area where they had a ping pong table. For me, it was love at first sight. I think Karen probably needed to give it some additional serious thought", Bob jokes.
At that time, Karen was a student in the Jennie Edmundson School of Nursing and Omaha University (now the University of Nebraska at Omaha) where she obtained her Bachelor's Degree in Nursing. Karen continued to work at Jennie until the couple moved away from Council Bluffs in 1960. Bob had served in the Army during the Korean conflict and was sent overseas again during the Vietnam War.
When they returned to Council Bluffs in 2004, Karen rejoined her Jennie family as a volunteer and soon began serving on the Board of Trustees, as well as holding many offices in the Auxiliary, including President. Karen says her involvement in the hospital through the Board and Auxiliary has deepened her relationship with many members of her Jennie family. "It has been a great privilege to serve as both Auxiliary President and Hospital Trustee. In these positions, I have been able to observe first-hand the high level of staff engagement and the excellence of care of Jennie."
Bob said, "The sincerity of the hospital's slogan – Jennie Cares – is evident in the warmth and generosity shown by Jennie's staff and volunteers in their interactions with patients and family members. The people are, by far, it's greatest strength. I've had contact with folks in oncology, outpatient surgery and radiology and they are all dedicated, caring folks."
Bob and Karen continue to support annual fundraising events like Spirit of Courage and give financial gifts throughout the year to the Foundation. By providing a legacy gift in their estate, they are helping to ensure state-of-the-art treatment for the MJEH Cancer in the future.
Like Bob and Karen Collins, you may have reasons to feel connected to Methodist Jennie Edmundson Hospital. You, too, can choose to have a long-term positive impact. We understand that few decisions in life are more personal than leaving a financial gift to one of your favorite charities.
Information contained herein was accurate at the time of posting. The information on this website is not intended as legal or tax advice. For such advice, please consult an attorney or tax advisor.